Inferno: Book Review by Arlene.

Summary:
Professor Robert Langdon wakes up in a hospital in  Florence, Italy and does not how he got there. He has amnesia. The last few days is a total blank.
Doctor Sienna Brooks is taking care of Langdon when a female assassin tries to kill him. With the help of the Sienna, Langdon escapes the assassination attempt. Both flee the hospital and get to safety at Sienna's apartment.
Together the two try to figure out what is going on. Langdon finds a cylinder inside a hidden part of his jacket with a bio-hazard sign on it.
They decide to open it.
Inside is an altered map of Botticelli's Map of Hell, which was Botticelli's vision of Dante's Inferno.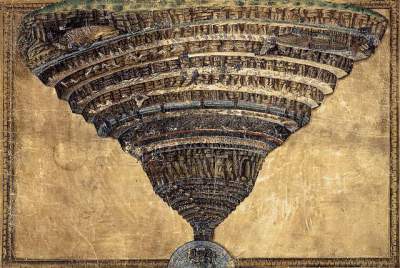 At the bottom of the map was a clue: "The truth can be glimpsed only through the eyes of death."
Langdon asks, "Why the hell am I carrying it?"
Review:
My opening line for Inferno is this:
"If you are a fan of Dan Brown's novels and have not read this one yet, you should."
I know there were many conflicting views when this novel first came out that it was just another one of Dan Brown's Robert Langdon's romp through Europe chasing the bad guys.
In our book club we always give you our honest opinions.
True to form, Dan Brown captivates the reader once again. If you have ever had any interest in reading Dante Alighieri's dark epic poem The Inferno, but felt it would be too daunting a task, you don't have to.
Dan Brown will take you through the depths of this epic work with his own insight while reading this riveting novel.
Keeping in mind that this is fiction and a product of the author's imagination and not entirely fact. Parts of the poem are woven into this story at just the right times.
You will be transported on a journey deep into the heart of Italy and eventually into Istanbul,Turkey.
Robert Langdon, the Harvard Professor of Symbology, will once again lead you on the journey. In my opinion, Inferno is one of the best so far.
You will be introduced to many other interesting and unique characters along the way. I believe you will enjoy the fast paced changing narrative throughout.
Personally, once again, I enjoyed his descriptive narrative of the art, architecture, geography, science and finally the  views expressed of the over population of humanity on our planet and in the mind of the brilliant scientist who came up with his own theory on how to control it.
You will be asking yourself, "Is he a mad scientist or a forward thinking genius?"
At the point in the book where you think you are getting it then POW the ending of the book was not expected and
surprising and it comes to a great conclusion that makes this novel well worth the read.
The novel follows Dan Brown's usual formula and I found the short chapters to be easy to follow and easy to put down and pick up again.
I enjoyed the brilliant visual descriptions to the point that I just had to get up and find my books on Italy and see for myself the beauty of the architecture and landscapes and seascapes being described on the pages of this book.
The twists and turns of the story kept me turning the pages day after day. We are all busy these days and I did not want to miss any of it so I set aside the time that I had to read this novel.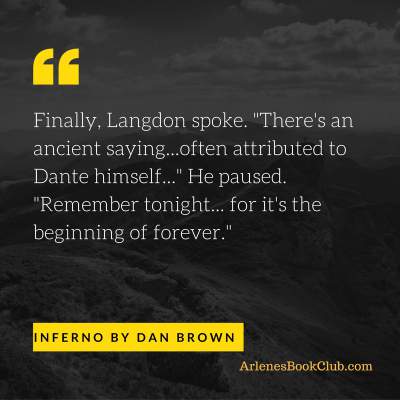 Shocking as the ideas of over population and the answer to it seemed, I felt they brought to the forefront ideas of in depth discussions on how our planet will survive in the future.
Brilliant minds need to be nurtured and taught that all humanity depends on our planet's survival for our children and grandchildren and beyond.
This world keeps turning and our life spans are very short all things considered and destruction is not the answer to survival. We keep hearing about new viruses all the time and how they multiply and spread throughout the people all over this planet. Those brilliant minds will be the future survival of mankind.
If you follow a religion and believe what you are taught or do not follow any religion the ideas in this book will enlighten you.
I can almost guarantee the next time an occasion occurs and you say "What The Hell??", you will think of this book!! It's Hell Raising!!
Get a copy of Inferno here on Amazon. Or, listen to it for free with an Audible trial.
See our Inferno Book Club Discussion Questions or check out our other Mystery/Thriller/Crime reviews!
Have you read Inferno? What did you think of it?