Big Little Lies: Book Review by Dinh

Please enjoy the video book review or continue to read by scrolling down.
Summary
Big Little Lies pivots on what happened on School Trivia Night. The book starts of in the present with a murder and it works its way forward from 6 months ago to the actual trivia night when the murder is committed.
The book's main characters are Madeline, Celeste and Jane who have their children starting kindergarten at Pirriwee Public School.
Jane is a young single mother who is looking to make a new start in this beach town community.
On orientation day for kindergarten, Jane meets Madeline who has a daughter starting there too.
Madeline's friend, Celeste has twin boys, are also starting kindergarten.
Jane becomes friends with these two women and an allegiance is formed between them when Jane's son  Ziggy is accused of bullying on the first day of school.
Review
I picked up Big Little Lies by Liane Moriarty because the cover caught my attention. I liked the brightly colored lollipop shattering on the cover.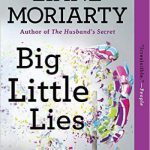 On reading the book sleeve I was interested in reading it right away. I was looking for a bit of light reading and this seemed to hit the spot.
About Moriarty
I had not heard of Liane Moriarty and when I picked up Big Little Lies. I found out that she is an Australian writer.
Her books include the New York Times best seller The Husband's Secret, What Alice Forgot and The Hypnotist's Love Story. Also written Moriarty are The Last Anniversary and Three Wishes.
Moriarty is also author to children's books The Petrifying Problem with Princess Petronella, The Shocking Trouble on the Planet of Shobble, and The Wicked War on the Planet of Whimsy.
Long Build Up
What I didn't like was the slow pace of the book. The build up to Trivia night seemed to take too long. I felt like I was just reading about these 3 main characters and not much was happening.
Although the hardcover book was only 458 pages, 383 pages of it were used to explain the events that led up to the murder. By that time, I had forgotten about the murder until I was there at trivia night.
Eurphoria
I enjoyed this book like I enjoyed watching Neighbors (Australian soap) in the 80s. Great entertainment! It was very satisfying to read to the end especially when it left me with a sense of euphoria.
Imagine this: everyone involved at the school trivia night is dressed as either Audrey Hepburn or Elvis Presley and at the end is a murder! How comical is that?
Ending
The ending was fantastic. It pulled all the loose strings together and tied up the story in a satisfactory manner. In short, it was a nice happy ending even though it had a murder in it.
Twist
I had not expected the twist in the story and the surprising twist at the end added to the plot.
For me that was the best part of the book. When you have a twist it has to be good and this definitely was a good one!
Easy to Read
I enjoyed the way Moriarty writes. She is very perspicacious. Her style is light and conversational so it's an easy read.
The book is laid out in an interesting way. The story is dotted with people who are questioned by the police/reporter and inject a light and humorous quality.
Ms. Moriarty writes a murder with humor that is also a page turner.
Tone
The book is light to read but the themes of the book are heavy. Themes in Big Little Lies include domestic abuse, bullying, rape, raising kids, teenage use of the web.
I would say that making light of these themes through humor does not in fact mean that she is merely brushing it off but rather it's a clever and sagacious way to make the reader understand that looks are not always as it appears.
Characters
Moriarty is insightful with her characters. The characters are spot on. They are realistic and you can identify with the main characters as well as the side characters.
I enjoyed the way we get inside the minds of Jane, Celeste and Madeline. These women all have different personalities and Moriarty expresses their inner thoughts and workings so well. She captures their emotional states, their frustration and anxiety in an astute and funny way.
In conclusion, I enjoyed this book. This is written in a light and easy to read way with some heavy themes that raises some issues for us to think about.
Get a copy of Big Little Lies here, or listen to it for free with Amazon Audible trial.
Check out our other book reviews!
Have you read Big Little Lies? Let us know what you thought!