Circling The Sun: Book Review by Arlene


Review:
The life of Beryl Markham is intricately woven for us in this very readable novel by Paula McLain. Once again, as in The Paris Wife, McLain succeeds in creating a novel, based on the life of a remarkable, complex woman who lived in a time period of history where women were held to a standard below their capabilities and intelligence.
Beryl Markham broke through those bonds on her own terms. She was smart, strong, courageous and defiant because she had to be starting at a very young age. Paula McClain captures her story and grips you all the way through this novel and doesn't let go.
As Newsday states, "Circling The Sun" soars.
Beryl is brought to Africa from England in the early 1920's by her parents who were dreaming of a new life there. Her mother cannot adjust and after 2 years leaves Africa with Beryl's younger brother leaving Beryl with her father. Beryl was not yet 5.
Beryl's father owns a horse farm which becomes very successful raising racing horses and as Beryl grows she loves Africa and the farm and becomes a very accomplished horse trainer. In 1919 Beryl is now 16.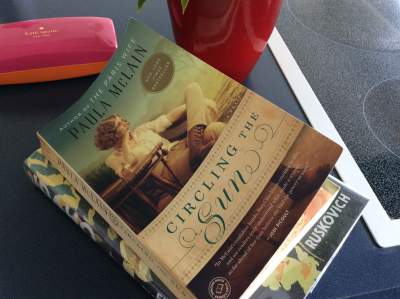 As her life evolves she marries a very domineering man at this very early age. Eventually not being able to tolerate this stifling life any longer she leaves this marriage. At this point she has her horse trainer license. She had her England's Trainer License until 1925.
She was the only 18 year old horse trainer possible in the world at this time and becomes known for her success in training winning racing horses.
I can think of so many points of interest in Beryl's life…her career, her relationships that she grew away from, including her own son when she was forced to leave him with his father when she left that marriage which tormented her throughout her lifetime, her lifelong friendship with Arap Ruta and her relationship with the love of her life Denys who gets her to fly and her love of Africa itself.
Through the novel, as I read along, Africa came alive for me also!!
When you read a novel of this scope, it is hard to encapsulate all the experiences of the central character, in this instance a real person, because so many intricately woven parts of this life come to mind. I found as I was reading and had to put the book down I could not wait to get back to it!
The latter part of the book brings you to Beryl's life as she leaves her horses and as she becomes a famed aviator.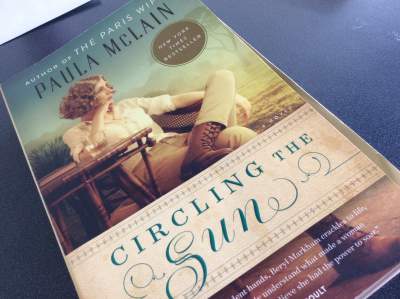 As a young girl in Africa, without her mother, Beryl is confronted with many issues. She learns how to become her own woman and this attitude towards life stays with her until the end.
As People (Book of the Week) states: "Famed aviator Beryl Markham is a novelist's dream.. A wonderful portrait of a complex woman who lived – defiantly – on her own terms."
The Boston Globe says "Enchanting…a worthy heir to Dinesen…Like Africa as it's so gorgeously depicted here, this novel will never let you go."
One of the things that really stood out for me was when at a young age, Beryl stayed at a farm where lions roamed free and she was brutally attacked by a lion and she survived. After that her surroundings made her feel invincible and she could survive anything life threw at her. She did survive and so much more!
After her first solo flight in June 1931 Beryl Markham quickly went on to become one of the first women ever granted a professional B license. She became a bush pilot and worked on numerous safaris. In 1936 , after 21 hours of flying she succeeded in her record breaking voyage across the Atlantic. she made every significant headline in the states.
There were so many women in Beryl's life that impacted her as she grew into a woman. These women were an interesting part of her journey and she loved them even though women of this time period were so much not like her…her free spirit held her close to what she dreamed of and gave her the courage to forge ahead.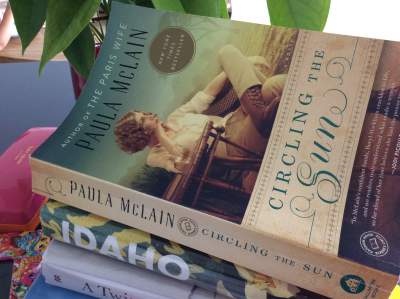 Scandal and speculation followed Beryl for much of her life. Thoughts on this book came to mind for me from a statement toward the very end of the book…
Everything was momentary and endless. Meaning for me – Our experiences and lives are momentary but last forever in our memories.
How our lives turn and turn. Things come that we never would have predicted for ourselves or even guessed at and yet they change us forever.
I love these thoughts so I will end here and I hope I successfully piqued your interest in reading about this remarkable woman's life through the eyes and talent of Paula McClain.
Are you part of a book group or book club? Check out Circling The Sun Book Club Discussion Questions.