Commonwealth: Book Review by Dinh.
Summary:
One Sunday afternoon in Southern California, Bert Cousins shows up at Franny Keating's christening party uninvited. Before evening falls, he has kissed Franny's mother, Beverly—thus setting in motion the dissolution of their marriages and the joining of two families.

Spanning five decades, Commonwealth explores how this chance encounter reverberates through the lives of the four parents and six children involved. Spending summers together in Virginia, the Keating and Cousins children forge a lasting bond that is based on a shared disillusionment with their parents and the strange and genuine affection that grows up between them.

When, in her twenties, Franny begins an affair with the legendary author Leon Posen and tells him about her family, the story of her siblings is no longer hers to control. Their childhood becomes the basis for his wildly successful book, ultimately forcing them to come to terms with their losses, their guilt, and the deeply loyal connection they feel for one another.
Synopsis from hardcover version, 322 pages, copyright 2016 and published by Harper.
Find Ann Patchett: |Website |Twitter |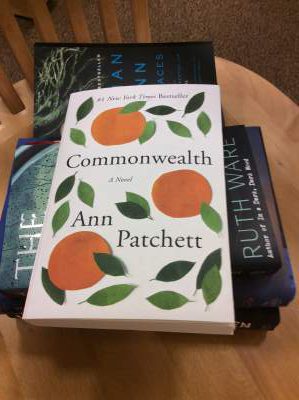 Review:
Commonwealth is the first book that I have read by Ann Patchett although she is a prolific writer. (See Patchett's novels). Having the literary awards for Commonwealth for National Book Critics Circle Award Nominee for Fiction (2016) and Goodreads Choice Award Nominee for fiction (2016) I was surprised that it did not win me over with its brilliance.
I enjoyed the book overall but it did not impress me; it was just okay. It was not the compelling read I had hoped for. Some parts of the book was more interesting than others.
Here's What I Liked.
Patchett is a good writer and I did enjoy reading her writing style.
The first line of the book was compelling and was a great start.
Here's the quote for the opening:
"The christening party took a turn when Albert Cousins arrived with gin."
I like how Patchett built suspense in the novel as well. She gives us misleading upsetting clues to only have something else happens. For example, the baby is missing in the beginning of the book, but she really isn't, and then Bert kisses Beverly.
Drugs, fire, alcohol and the kids with a gun are introduced to make you think that something bad is going to happen to the kids but then it doesn't. Something else happens instead. It was strange how the author guided you to this to have nothing happen. It was a good strange though.
I took pleasure in that this story is about family, and how the modern day family is not nuclear family but rather a blended family.
This is an interesting look at two families that was split through divorce and covers their lives over a course of 50 years. It's about the relationships among the the kids that are built in their childhood and how these relationship transpire into their adult lives.
I was please on how the novel explore the changing nature of domestic roles, particularly Beverly's.
What Didn't I Like?
Although there were aspects that I liked about Commonwealth, like the story line and the writing, I didn't find the book compelling.
One problem I had was that I didn't really care for any of the characters and couldn't relate or connect with them.
The novel is not character driven enough to relate to them. The book covers a long time period in all the characters lives so you don't get to spend much time with each of the main characters to get to understand them or the depth of them.
Patchett spread herself a bit thin on all the characters. I would have liked to have more of each family member, particularly Albie and Franny but I think it would have been a bigger book than the 322 pages currently.
Patchett does focus on a few events as a way to work the character's life journey. The focus is on certain events that are pivotal, like the christening party where Bert Cousins kisses Beverly Keating. That act changes the trajectory of their lives and their family members and the resounding impact for the rest of their lives.
Another big problem I had was that there were too many characters to keep track of.
It was difficult to get into the story because there were 2 families involved and keeping track of the four parents and 6 children as well as other side characters.
The confusion of who is who, especially at the beginning of the book, was not helped by the flash forward and flash backwards in the story. This non-linear time line was particularly disjointed and confusing particularly when there was no warning of it.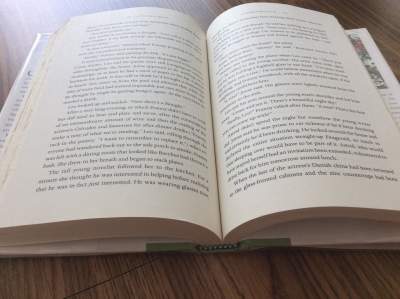 Another issue I had with the book is how Patchett should have researched her topic more.
Her erroneous writing in the story of Cal was so glaringly obvious.
This is even more poignant because it was a pivotal part of the story line. Cal got stung by a bee sting and then dies.
The story says Cal gave all his Benadryl tablets to Albie so didn't have any when he got stung. It wouldn't have mattered about the Benadryl. Cal needed epinephrine for anaphylaxis; Benadryl would not have saved him.
My Final Thoughts
I enjoyed Commonwealth by Ann Patchett for its story about a blended family whose lives interconnect over a 50 years time frame.
Patchett is a gifted writer and I appreciate her style, however I didn't find the novel compelling. It was an okay read. Some issues I had with the book include erroneous information, and a long cast of characters that I didn't care for.
I would like to check out her other novels and see if I like her work. I would probably check out Bel Canto, a novel that Patchett won the PEN/Faulkner award in 2002.
Fans of Ann Patchett should to check Commonwealth.
Commonwealth is available here. Check out the audio book for free with an Amazon Audible trial.
If you are part of a book club or group, check out Commonwealth Book Club Discussion Questions.