Book Review by Dinh.

Summary:
"Lydia is dead. But they don't know this yet."
This is the first line of the book.
This is a novel about the Chinese American family, James and Marilyn Lee, their daughters Lydia and Hannah, and their son Nathan.
The story is set in 1970s in a small town in Ohio. The father James is Chinese and a professor at the university. The mother Marilyn is Caucasian and a housewife.
Lydia is the middle daughter and is the favorite child. Both parents want to live their dreams through Lydia – James wanting her to be popular and Marilyn wanting her to be a doctor.
Nathan and Hannah are largely ignored and vie to get their parents attention.
At the death of Lydia, their family union begins to unravel and the truth about Lydia comes to the forefront. Marilyn is determined to find the person responsible for Lydia's death. James handles her death by acting recklessly. Nathan is believes that Jack, a boy Lydia was hanging out with is responsible.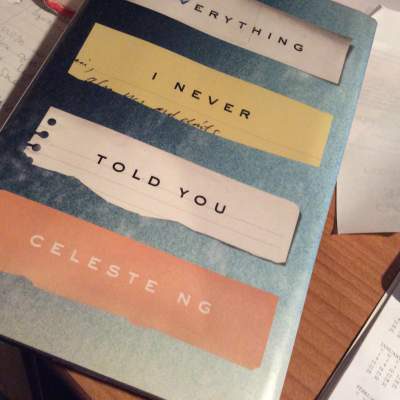 Review:
The first line of the book was a good hook, however the hook did not last long and began to fade after the initial chapter.
Overall, I was disappointed in Everything I Never Told You, the debut novel by Celeste Ng. I had expected more of a riveting read but alas it was not so. Rather, it was a slow and bordering on a boring read.
Undelivered Promise:
The book had a outlook of a good book- an interesting story line, with themes such as family, jealousy between siblings, love, lies, secrets, and interracial marriage, but some how I didn't click with the book. The execution failed here.
The other interesting aspects looked at inter-racial marriage  in the 1970s, and the tension that can be brought about in a family as a result of the societal pressures sounded interesting, but in the book it was not delivered in a convincing way. Ms. Ng could have explored and gone into more details of the cultural times.
Slow:
I was hoping it to be a touching pager turner but I did not find this book a page turner and found it okay to read. Celeste Ng does write well and her style is light.
I did not feel invested in the book in any way shape or form.
What I didn't like was that it was slow and I didn't get into the book until towards the end. For a book with only 292 pages in the hardcover, you may have wanted it to pull you in long before that.
The only thing that kept me going was what happened to Lydia.
I wanted to know what happened to Lydia and why she died. I found out the why, and how, but after finding out why it was anti-climatic, especially when the buildup was so slow. Whilst I understand that this is not a thriller, I felt that it did not pull me like it should have done. Instead, I wanted to end sooner because it was dull.
And why not?
Hollow Characters:
The characters were hollow. There wasn't a person in the book I could relate to or felt connected to. The characters were one dimensional and not compelling.
The book tried to explain each character's personality and how  they dealt with the death of a family member but in doing so it lost sight of the character development.
My Final Thoughts:
Overall, I found this book okay to read but it was bordering on dull to read if there hadn't been the why or how did Lydia died in the story line. The ending was unsatisfying as well. If you are looking for a riveting or compelling book to read, this is not it.
Get the book here. Or listen to it for free with an amazon audible trial.
Fall into your next good book here!
Have you read Everything I Never Told You? Let me know what you thought of it!