Lilac Girls: Book Review by Dinh.
Summary:
New York socialite Caroline Ferriday has her hands full with her post at the French consulate but on the eve of a fateful war, her world is forever changed when Hitler's army invades Poland in September 1939—and then sets its sights on France.

An ocean away from Caroline, Kasia Kuzmerick, a Polish teenager, senses her carefree youth disappearing as she is drawn deeper into her role as courier for the underground resistance movement. In a tense atmosphere of watchful eyes and suspecting neighbors, one false move can have dire consequences.

For the ambitious young German doctor, Herta Oberheuser, an ad for a government medical position seems her ticket out of a desolate life. Once hired, though, she finds herself trapped in a male-dominated realm of Nazi secrets and power.

The lives of these three women are set on a collision course when the unthinkable happens and Kasia is sent to Ravensbrück, the notorious Nazi concentration camp for women. Their stories cross continents—from New York to Paris, Germany, and Poland—as Caroline and Kasia strive to bring justice to those whom history has forgotten.
Synopsis of Lilac Girls by Martha Hall Kelly is from hardcover edition, contains 487 pages, copyright 2016, and was published by Ballantine Books.
Find Martha Hall Kelly: |Website | Facebook |Amazon Author Page |

Review:
I am so glad that we read Lilac Girls by Martha Hall Kelly for our monthly book club.
It was a very moving historical fiction book that was based on real people and events that happened at the Nazi concentration camp for women at Ravensbrück.
This impressive debut by Kelly, will remind you of the cruelty that happened in the Nazi regime and how survival through this gruesome period can be overcome with a little help from some unexpected places.
Though the story line is sad and the fate of the of those that suffered are terrible, the book itself was not depressing. That was a relief, because I don't tend to enjoy the negative emotions that are left behind when it's too pessimistic.
Instead, what came through for me was the positive vibe that it left when I finished the book and when I reflected on the book as a whole. I felt hopeful for a better future, and that life however horrible it can get, can give you second chances.
Here's what I enjoyed.
Writing Style
I enjoyed how Kelly entwined the lives of the main characters. The story is told with narratives from the three main characters: Caroline, Kasia and Herta.
It was definitely more interesting and engaging for the reader to have these three perspectives as opposed to just one viewpoint.
The contrasting character's histories  allowed me to get more insight in the the women's experiences and held my attention.
I also liked how Lilac Girls was a result of considerable research that centered on Ravensbrück concentration camp for women, Caroline Ferriday's letters, testimonies from the Nuremberg Doctors Trial, and testimonies of Ravensbruck survivors.
Kelly's research provided an authentic feel to the book which I appreciated.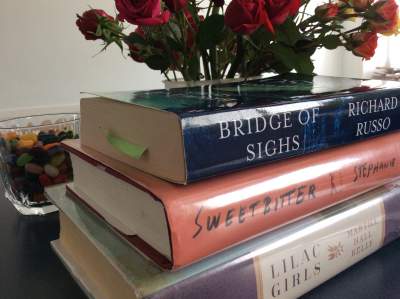 Interesting Characters
Of the three main characters, I would say that Caroline Ferriday intrigued me the most. Caroline character is based on the real Caroline Ferriday, a philanthropist.
What fascinates me about Caroline is the transformation that she makes in Lilac Girls.
Caroline starts off at the beginning of the book as a New York City socialite and by the end of the book she is this awesome activist who helps women survivors of World War II.
There's much to admire on how Caroline started off with sending care packages to French orphans and how she championed the "Rabbits" by the end.
I also liked Kasia, whose character was inspired by a real women (Nina Ivanska) who was a concentration camp prisoner, and who was also subjected to the atrocious medical experiments that were performed at Ravensbrück.
I admired Kasia qualities as a strong and resourceful Polish woman. She initially got involved in with Polish resistance, and then later on in Ravensbrück, she resourcefully devised a plan to send messages home to her father to let him know what was happening in the camp. I loved that she wrote a coded letter with urine!
Herta was a German doctor who was ambitious to get ahead and jumped on the opportunity to work for the Nazis. Though, we get an insight of Herta's history, what was pervasive was her ambition. She wanted to be at the top in the male dominated Nazi regime no matter what.
Being a doctor she was suppose to help the sick but instead she became the murderer, killing the sick and performing medical experiment on the prisoners.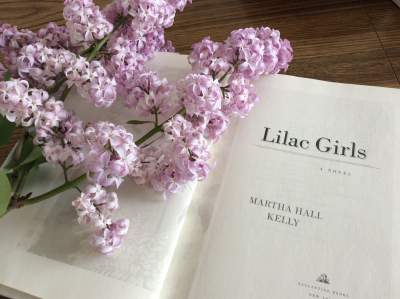 Themes
Lilac Girls has many themes : war, love, bravery, friendship, survival, political resistance, human rights etc.
One theme that moved me the most of the theme of female friendship. The camaraderie among the women in Ravensbrück was something surprising and remarkable I found. In the midst of this terrifying experience, women were able to bond and support each other.
I found it uplifting that when there was a hunt for the rabbits in Ravensbrück, the other prisoners shielded the 'Rabbits' by helping to hide them and giving them different ID numbers to evade the Nazi doctors.
Satisfying Ending
I enjoyed the ending immensely. I loved how it all came together and the lives of those entwined are explained.
I was expecting more of a sad ending because of the subject matter, but Kelly surprised me with a positive message and it was hopeful.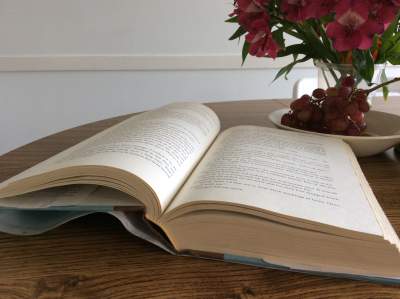 What Was Lacking?
The story is told through the three main characters point of view but Kelly explored Kasia and Caroline's perspective more.
I enjoyed the perspectives, but wanted to find out more about what was going on in Herta's mind. I wanted to understand how she lived with herself for what she was doing daily at Ravensbrück. She killed women by giving them lethal injections and did unethical atrocious medical experiments on the women.
The three characters have the same amount of chapters in part 1 of the book but by part three, the emphasis was more on Kasia and less on Caroline and nothing on Herta.
This deliberate omission of Herta in the book may well be that Kelly wanted to keep the book at a reasonable length. Or perhaps Kelly wanted Kasia story to have more impact by omitting Herta's story.
My Final Thoughts:
 I enjoy reading historical fiction that is based on real people and events.
This was a holocaust story and although I was expecting it to be horrific and depressing, I found that it was not depressing at all. Kelly passed the challenge of making us aware of the atrocities of the past and reminding us that we can be heros too, just like Caroline and Kasia.
This deeply moving and well written book is a must read for historical fiction fans.
Check out Lilac Girls Discussion Questions!