The Buried Giant: Book Review by Dinh

Please enjoy the video of The Buried Giant Book Review or continue reading!

What is it about?
The Buried Giant is a historical fiction involving fantasy and myth of a tale of two elderly Briton's journey to find their long forgotten son. Set in England, post-Arthurian mythical times, the fighting between Britons and Saxons are over and they now live side by side in peace.
Axl and Beatrice's excursion is not easy and they encounter many unexpected turns. Their mission to find their son soon becomes overshadowed by a quest to get their memory back as the dragon Querig has cast a mist over the country that gives them all amnesia.
In their quest to find Querig, Axl and Beatrice join up with Sir Gawain, an old relic of a knight from King Arthur's day, Wistan the Saxon warrior and a little Saxon boy Edwin.
How is it written?
Kazuro Ishiguro is author to numerous books. These are, Nocturnes, The Unconsoled, When We Were Orphans, A Pale View of Hills, An Artist of The Floating World, Never Let Me Go and Booker Prize winning The Remains of Days.
The Buried Giant is simply written and was enjoyable to read. He does have a style that is smooth and palatable and reminds me of a bedtime story that you would read to an adult. It's a fairy tale of dragons, knights, ogres and other mystifying things.
The novel was not a heavy read nor was it lengthy; it only has 317 pages.
What didn't I like?
Having only read the book jacket's description of the story line, I was not expecting a fantasy tale involving ogres and dragons. The story at the beginning of the novel does not give you an indication that it would be historical fantasy genre. So I was a little confused at first until some of the parts came together later on.
I was disappointed with the ending of the novel. The ending failed to deliver the closure I was looking for. The book had a nice slow build up but then fizzled towards the end without giving the reader any resolution in the ending.
Whilst I understand that some of the questions raised in the book such as love, war, memory and vengeance were not supposed to be answered, I found that the ending left an uncertainty which I did not care for.
Axl's fate was left up to the reader to decide, which to me was not appealing and left me unsatisfied. This sort of ending may have worked better in another story. The whole story was a build up to Axl and Beatrice finding their long lost son and you do get some answers as to who, why and what happened in to tie the story together but the ending suggests 'it's up to you to figure it out and decide'.
I didn't like the ambiguity of the ending of The Buried Giant at all!
I think Ishiguro left the ending of the novel ambiguous on purpose so the reader has to decide what death really means to them. However, how does that connect to the theme of memory and forgetfulness and its impact on one's relationship that it was harping throughout most of the book? It doesn't.
What did I like?
Although I found the ending disappointing and anticlimactic, I did however enjoy reading the book. It was like reading a pleasant lengthy fairy tale for adults.
Ishiguro's style of storytelling is compelling and he has a great style and tone that fits into this novel perfectly. I liked his direct way of writing without any fussiness.
I also adored the simple story line of The Buried Giant and the themes that arose. It's about an elderly couple's journey of finding their son. It may seem a simplistic tale but the themes reoccurring in the novel of love, memory loss, war and vengeance make it an intriguing and thought provoking read.
The Buried Giant has some interesting symbolisms which I also enjoyed. Almost immediately at the beginning of Axl and Beatrice's journey they meet the boatman at an old ruined Roman villa. The boatman is a symbolic representation of Death.
Their encounter with the boatman and the old lady, whilst at first may seem weird; it does however become significant in the story later on as Beatrice is constantly referring back to it and how it plays out at the end.
The main protagonist Axl and Beatrice are interesting characters. We know of them in their elderly years and their love for each other but don't really know their history together and how they reached that point.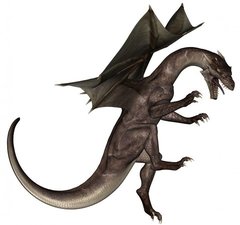 The mist that the dragon Querig has created from her breath has made not only Axl and Beatrice have amnesia but everyone else forgetful. We get some insight as to what happened in their history as bits of their memory does come back and we are left wondering if it's better for them to have amnesia since they seem better off with it.
I appreciated the different narratives and the way it shifted in the book, especially at the end of the book which keeps the reader on its toes and makes the story engaging.
Overall, The Buried Giant was an enjoyable read and it raised some interesting themes and questions. Are we better off living in peace and forgetting the war or should we remember and look for retribution? You decide!
Get a copy here
 or listen to it for free with an Amazon Audible
 trial.
We love comments, let us know if you have read this book or  Ishiguro's other works and what you thought!
See our other Book Reviews.