The Little Red Chairs: Book Review by Dinh.
Summary:
Dr. Vladimir Dragan, a stranger, masquerading as a healer and a sex therapist arrives in the small Irish town of Cloonoila and disrupts the quiet town.
Soon he meets the locals and charms them all. The town's beauty Fidelma McBride falls under his spell.
Fidelma is married to Jack, who is significantly older than her. Fidelma desperately wants a child and connives with Vlad to get her deepest desire.
Then one day, on the bus going to Yeats grave, Dr. Vlad is arrested. It is revealed that he is a war criminal and a mass murderer. He is taken to the Tribunal in the Hague and indicted for war crimes.
Everyone is shocked and devastated by having the wool pulled over their eyes, especially Fidelma who is made an outcast for her sins.
Disowned by Jack and in disgrace, Fidelma leaves Ireland for London to start anew.
Review:
To be honest, I was not quite sure how I felt about The Little Red Chairs when I finished it. Let me preface by saying that this is not a feel good book but a thought provoking and philosophical book.
This is the first book of Edna O'Brien that I have read so I did not have any expectation going in. However, I have read that she is a great writer.
Let's get started on the good things that I enjoyed about The Little Red Chairs.
Good Writing
I've read that Edna O'brien is a well known author and is respected for her writing skills so I expected her writing to be good. She didn't disappoint!
What a great writer O'Brien is! She writes clearly with precision that transports your imagination to another world, whether the scene is the beautiful nature of Ireland, or the harrowing events of the war.
Plot
The plot was interesting because O'Brien's Little Red Chairs is based on the life of Radovan Karadžić, a Bosnian Serb politician who was president of  Republika Sprska during the Bosnian War (192-1995).
Karadžić went into hiding and was a fugitive from 1996. It is when he went into hiding that  O'Brien took liberty and created a story of what happened to him from then.
I must say that this is a great idea, to pick up real life facts and make it into a novel.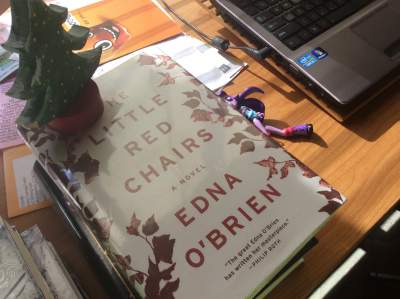 Side Stories
One aspect in The Little Red Chairs that I enjoyed was the inclusion of the different people from different backgrounds and their stories.
Everyone had an interesting backstory. The stories together weave a web that tied the threads together with the main the story. Some stories were of immigrants and causalities of war, others not, but had a rough life.
I liked Mujo, the worker at the castle, his back story, and how he got to Ireland. His story weaves into the main plot and opens up the idea of how small the world is when he sees the bad man on table 17.
Journey
I liked that each part of the book had a meaning. Fildelma journeyed from Ireland to London and then to the Hague.  The first part of the book was the downfall, the second is finding the path, and the last part is about atonement.
There were some elements that I didn't love in The Little Red Chairs.
Excessive Violence
What I didn't like was the graphic violence parts of the book. O'Brien directness and rawness in expressing the horrible event that happened to Fidelma was too much for me. It was too vivid and left me feeling way upset to pick up the book for a while.
There were also atrocities that happened and were described in too much detail.
Only some parts were not depicted in minute details but were glossed over. It was a nice relief in the third part of the book, where at the Hague, Vlad's crimes were listed and were not detailed.
I think the nature of the violence that was committed can be expressed without going into that much details. We get the message loud and clear and don't need all the gory details. It can take away from the story rather than adding to it.
Fragmented
Although the story line is there, I found that the execution of it was fragmented. The narrative is not clear at times and it jumped back and forth so if you put it down you have to re-read parts again to find where you are.
My Final Thoughts
The Little Red Chairs is a well written book, with a good story line, and interesting side characters. It is also thought provoking.
Overall, it had too much violence in it for me to enjoy it fully. Rape, torture and other atrocities were detailed excessively and took away from the story.
You can get a copy here or listen to it for free with an Amazon Audible trial.
Have you read The Little Red Chairs? I'd love to hear what you thought of it! Please don't forget to check out our book club discussion questions for The Little Red Chairs.
Looking for another book? See our book reviews!