The Sign Of The Four: Book Review by Dinh.

Summary:
Mary Morstan's father mysteriously disappears and a few years later there is an advert asking for Ms. Morstan's address. Ms. Morstan decides to reveal her address and is then sent a valuable pearl.
Ms. Morstan consults Sherlock with these facts and he and Watson set to solve this case. Who sent her the pearl and why? What happened to Ms. Morstan's father?
In this short book, Sherlock Holmes solves the case involving the lost treasure of Agra, India, and a pact made by four convicts.
Also, we see how Watson meets his future wife.
Review:
I just loved that this book starts off with a shocker- I was floored that Sherlock Holmes took drugs! I never knew that he did that.
He either injects cocaine or morphine.
To be precise, he injects the drug 3 times a day when he is not working on a case.  Sherlock injects a  7% solution of cocaine to stop him from being bored when he is  not on a case.
I guess  I shouldn't be that surprised as today's detectives sometimes take drugs to be "up" so they can catch the bad guy. I remember reading the Prey series and Lucas Davenport also takes drugs to help him.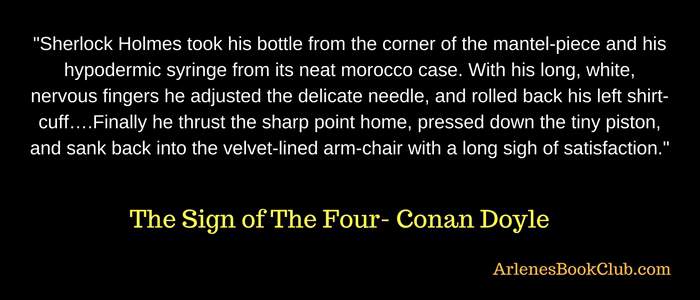 Here's what I liked about the book:
Page- Turner
I enjoyed The Sign of the Four because it was a quick, easy read, with a good story line.
I liked that this case was a bit harder and that Holmes was stumped for a bit.
Sherlock did not have much information at first- only the facts that Ms. Morstan presented him.
It makes the story more enjoyable when Holmes had to work out the problem. It makes him more believable and not infallible when not everything is solvable right away.
Romance
This book also had a bit of romance, albeit it was only a bit and when I say romance it's not romantic. What I refer to is Dr. Watson falling in love.
We see how Watson falls in love and meets his wife to be. Courtship back then was so different and it's a nice compare the way things were done then.
Awesome Characters
I also liked that the Baker Street Irregulars were in this. How inventive of Holmes to have street urchins to do his legwork for him.
Both parties benefit. The street urchin boys get paid for their work and Holmes gets a wide network of spies around London to help him with his investigation.
Great Writing
Another thing that I liked about this book is that Conan Doyle writes in a clear, crisp manner. The focus is on the case and how it's solved so there's no excessive written descriptions of events that are not applicable.
Having said that, the only negative thing about this book is that it was short. Like the first book, it read like a short story and was done before I knew it.
So if you want a quick read, on a solvable mystery/detective case then this may be for you!
Get a copy of The Sign of the Four here. Or listen to it for free with an Amazon Audible trial.
Check out A Study in Scarlet or other book reviews.