Dark Places: Book Review by Dinh.
Synopsis:
Libby Day was seven when her mother and two sisters were murdered in "The Satan Sacrifice of Kinnakee, Kansas." She survived—and famously testified that her fifteen-year-old brother, Ben, was the killer. Twenty-five years later, the Kill Club—a secret society obsessed with notorious crimes—locates Libby and pumps her for details. They hope to discover proof that may free Ben.


Libby hopes to turn a profit off her tragic history: She'll reconnect with the players from that night and report her findings to the club—for a fee. As Libby's search takes her from shabby Missouri strip clubs to abandoned Oklahoma tourist towns, the unimaginable truth emerges, and Libby finds herself right back where she started—on the run from a killer.
Synopsis from paperback version, 349 pages, copyright 2009 and published by Broadway Books.
Find Gillian Flynn: Website| Facebook |Twitter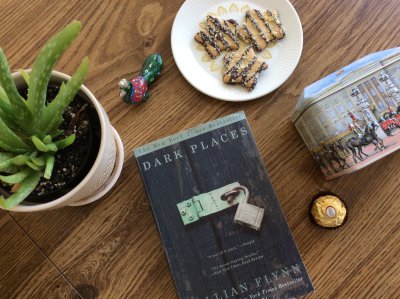 Review:
This summer I have been addicted to reading lots of books that are mystery, thrillers or suspense.
It's simply satisfying to get engrossed in a book that takes you on a roller coaster of emotions.Gillian Flynn's novel Dark Places does just that.
It's a thriller that captures high octane suspense and a mystery that will keep you guessing right up to the end.
I read Flynn's Gone Girl some time ago and enjoyed the book, although I did think it was over-rated. There was quite a lot of hype over the book at the time and although I enjoyed it, I would say that I prefer Dark Places much more.
One of the reasons why I enjoyed it was because it was gritty and dark. There are some really horrible parts in the book, so be warned! Violence and depravity not for the fainthearted.
The somberness aside, there were some awesome elements that worked well for the book.
Awesome Twisty Plot
Who doesn't love a twisty plot?
This crime thriller have twists in the book that will keep you guessing until the end. And you won't see it coming!
Libby gets paid by the 'Kill Club' to investigate whether her brother Ben killed their family in their Kansas farmhouse in the 1980s. Now as an adult of 32, Libby must confront the events that led the brutal killing of her family when she was a child of 7 years old.
The story pulled me in and I couldn't stop. As you get more into the story, you get more info and that changes what you think about the murder and who did it.
Fluid Writing
Flynn does a great job in telling the story by starting with present day and finishing with the actual murder seen by the eyes of the family member. This technique worked very well in hiding the truth until the end of the book.
The book is also well paced. The pace is steady and gradually builds up to the end.
Between the fluidity of the narration from Libby point of view, her brother Ben's and her mother Patty's voice, and the steady crescendo of the pace, the book ends in bang as the tension is released when we discover the truth.
Flynn's style is gritty and enthralling. I loved how she creates a darker book through her descriptive writing.
"I have a meanness inside me, real as an organ. Slit me at my belly and it might slide out, meaty and dark, drop on the floor so you could stomp on it. It's the Day blood. Something's wrong with it. I was never a good little girl, and I got worse after the murders. Little Orphan Libby grew up sullen and boneless, shuffled around a group of lesser relatives—second cousins and great-aunts and friends of friends—stuck in a series of mobile homes or rotting ranch houses all across Kansas."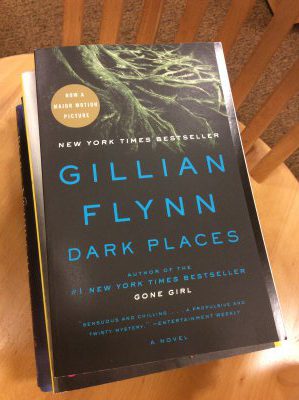 Compelling Characters
One of Flynn's greatest attributes is her ability to make the characters believable and dark. I love how the characters are so well done in this book. The characters are complex and well developed.
For me, I loved that the characters are dark. Flynn delves into the characters core with all their flaws and show how each person is motivated. The title of the book speaks volumes for the characters.
I liked that Libby Day is not perfect, well she is not because of what happened with the brutal killing of her family, but her flawed personality on the surface is not as it would appear.
Libby is a compelling protagonist. She has issues to work through but she confronts the past however hard the truth is. You have to give her some credit as she revisits the killing of her family.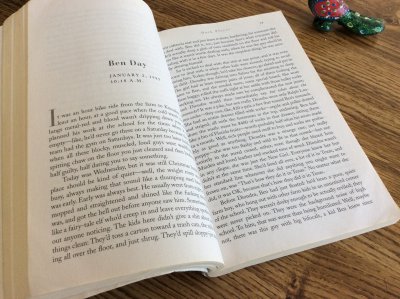 Fantastic Ending
What a great ending!
I love the twists and didn't see where it was heading until it hit me between the eyes. Who killed Libby's family?
It's not an ending I expected and I was delighted that I was surprised.
Final Thoughts
I enjoyed Dark Places and it left me satisfied and wanting to read more of Gillian Flynn's work. I've yet to read Sharp Objects, so that's on my to read pile.
The elements that worked in Dark Places include a great plot, deftly written characters and a great twisty ending that you won't see coming.
Dark Places is dark and has some disturbing depravity so it may not be for everyone. I enjoyed this book because it was not your run of the mill light and happy kind of book.
This book is riveting and a gritty page-turner. If you enjoyed Gone Girl, you'll enjoy Dark Places!
Read the book then watch the movie!
The book was adapted to a feature film in 2015 starring Charlize Theron, Christina Hendricks, Nicholas Hoult and Chloe Grace Moretz.
Here's the movie trailer for Dark Places.

Are you a fan of author Gillian Flynn?