The Book of Speculation: Book Review by Dinh.
Synopsis:
Dear Mr. Watson,
I came across this book at auction as part of a larger lot I purchased on speculation. The damage renders it useless to me, but a name inside it led me to believe it might be of interest to you or your family….

Simon Watson, a young librarian, lives alone in a house that is slowly crumbling toward the Long Island Sound. His parents are long dead. His mother, a circus mermaid who made her living by hold her breath, drowned in the very water his house overlooks. His younger sister, Enola, ran off to join the circus six years ago.

One June day, an old book arrives on Simon's doorstep. Fragile and water damaged, the book is a log from the owner of a traveling carnival in the 1700s, who reports strange and magical things- including the drowning death of a circus mermaid. Since then, generations of "mermaids" in Simon's family have drowned- always on July 24th, which is only weeks away.

As his friend Alice looks on with alarm, Simon becomes increasingly worried about his sister. Could there be a curse on Simon's family? What does it have to do with the book, and can he stop it on time to save Enola?
Synopsis was taken from the hardcover version (339 pages), copyright 2015 and printed by St. Martin's Press, ISBN 978-1-250-05480-7.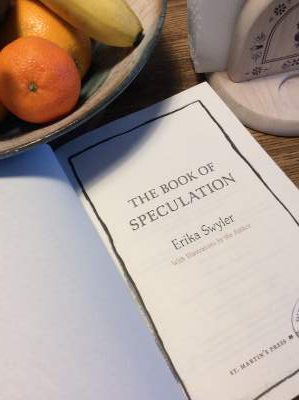 Review:
For those that know me, know that I love magical realism. Well, The Book of Speculation by Erika Swyler is right up my alley and I didn't even know it by looking at the book cover! And what a gorgeous and intriguing cover!
It was the cover and the title of the book that caught my attention whilst I was browsing for a new book to read. And it wasn't a personally recommended book to me- just think of that, I chose to read at random!
The synopsis pretty much tell you what to expect in novel and since I didn't have any expectations from it I found it rather enjoying to read.
So what did I like about The Book of Speculation?
Simple Story Line
First off, it was reminiscent of the The Night Circus by Erin Morgenstern since it has a traveling circus in it, but the similarity stops there. Sure, you get mermaids and other magical things, but this book is not all fantasy and more magical realism.
I enjoyed the simple plot of The Book of Speculation.
It's about Simon, a young librarian trying to solve his family genealogy. Is there a curse on the women in Simon's family? And will Simon be able to save his sister if all evidence points to a curse?
Although it's about Simon, his sister and their family history, there is a bit of romance. It's just a whiff of romance to add to the uncomplicated plot.
Beautifully written
Erika Swyler debut novel is  written beautifully. She has a wonderful style of prose that captures the magical elements whilst contrasting it with the realistic fiction.
She is very talented in conveying the historical family ties through the generations and centuries, making it interesting and captivating the reader with her specific style.
I liked how she kept the reader interested in the story by moving from present day with Simon's story and then switching back in time.  It was interesting to see how the story of the mute bastard boy in the 1780s relates to Simon.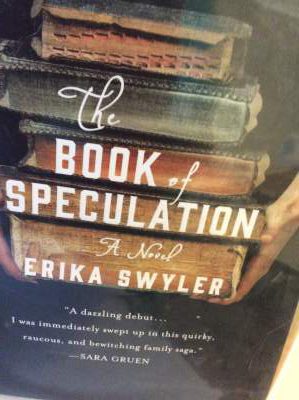 Quirky Characters
I thought the main characters were developed enough and real enough to keep my interest.
I didn't warm up to Simon even though he was the protagonist. His character was a bit boring for my liking. His relationship to his sister Enola was realistic and  I liked the development of both characters as Simon tries to figure out the significance of the book given to him.
I personally found the stories and characters of the past generations more intriguing. The circus characters were quirky, memorable, and interesting.
Moreover, I liked the way Swyler makes the characters in the past as fait accomplit, their fate already determined even before they where born. This element weaves a magical aspect to the characters and make them appealing to me.
" The trouble with Evangeline started long before Amos saw her in a lightning field. The trouble was that she was born."
Even Mr. Martin Churchwarry, the bookseller of used and antiquarian books was interesting and quirky, though we don't get to know him as much as I would have liked.
Negatives?
Spoiler Alert!
Although I enjoyed reading the book, there were a few things that didn't work for me.
I did enjoy the ending, as the puzzle gets solved and all the loose ends get tidied up but I found that it didn't flow or connect to the original story line. Simon, Enola, and Alice go off to start fresh somewhere is a realistic aspect of the story which fails to encompass the magical element of the book.
In addition, I felt that the book was a bit lop-sided. The realistic part was not as interesting as the magical parts. If both elements were tighter and balance it would have been better.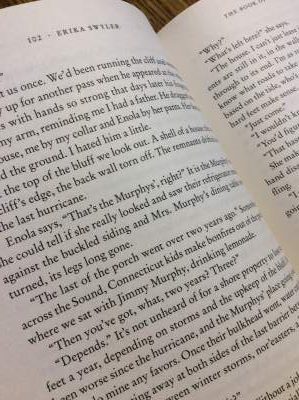 My Final Thoughts:
I thoroughly enjoyed reading The Book of Speculation.  I loved the captivating tale of a man's quest to find his family roots to solve what he believes is a curse. This magical realism style dazzles the reader as it travels back to the origin of the family roots.
Get a copy of The Book of Speculation on Amazon . Or listen to it for free with an Audible trial.
Discover your next great read!
Do you like books about the circus or about family roots? Does this book appeal to you? I'd love to hear your comments!