Britt-Marie Was Here: Book Review By Dinh.

Synopsis:
Britt-Marie can't stand mess. A disorganized cutlery drawer ranks high on her list of unforgivable sins. She begins her day at 6 a.m., because only lunatics wake up later than that. And she is not passive-aggressive. Not in the least. It's just that sometimes people interpret her helpful suggestions as criticism, which is certainly not her intention. She is not one to judge others- no matter how ill-mannered, unkempt, or morally suspect they might be.

But hidden inside the socially awkward, fussy busybody is a woman who has more imagination, bigger dreams, and a warmer heart that anyone around her realizes.

When Britt-Marie walks out on her cheating husband and has to fend for herself in the miserable backwater town of Borg- of which the kindest thing one can say is that it has a road going through it- she is more than a little unprepared.

Employed as the caretaker of a soon-to-be demolished recreation center, the fastidious Britt-Marie has to cope with muddy floors, unruly children, and a (literal) rat for a roommate. She finds herself being drawn into the daily doings of her fellow citizens, an odd assortment of miscreants, drunkards, layabouts- and a handsome local policeman whose romantic attentions to Britt-Marie are as unmistakable as they are unwanted.

Most alarming of all, she's given the impossible task of leading the supremely untalented children's soccer team to victory. In this small town of big-hearted misfits, can Britt-Marie find a place where she truly belongs?
Synopsis from hardcover version, 336 pages, published by Atria, copyright May 2016.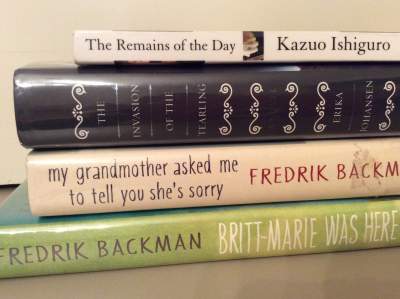 Review:
If you are a fan of Fredrik Backman then you will certainly enjoy Britt-Marie Was Here. This time, he's back with another funny, insightful and moving book that will endear the reader.
As you may know, I loved Backman's bestseller A Man Called Ove and I also enjoyed My Grandmother Asked Me To Tell You She's Sorry. All in all, my expectations were high going into the book. And guess what? I was satisfied after reading the book.
So let's dive in and see what I liked about the book.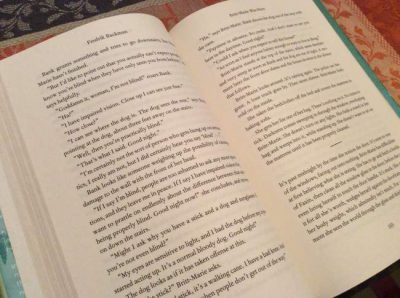 Characters:
What I enjoy most about Backman's book is his ability to make the reader like the characters in his books.
Britt-Marie was a side character in My Grandmother Asked Me To Tell You She's Sorry, and in that book we got an inkling of her fuddy-duddy character – Elsa didn't like Britt-Marie but Elsa's mother said that Britt-Marie was not always like that…
Now, starring in her own right in this book, Britt-Marie who at first seems like a fussy, quirky, and irritating old lady, is transformed into a character that we begin to like, even though she still retains those quirky behaviors.
I enjoyed the personal growth that Britt-Marie takes on as the book develops and she realizes that she has friends and is not in the shadows anymore.
We see how at the beginning of the book, Britt-Marie has just left her cheating husband, whom she was married to for 40 years, and not knowing what to do with herself and afraid that no one would notice if she died. Then she finds and job in the backwater town of Borg and somehow ends up being a soccer coach to the local kids.
Seeing her metamorphose and being appreciated by the soccer kids makes you like her. Backman is amazing in putting warmth and life into a character!
The magic of Backman starts when you start rooting for Britt-Marie, the kids in the soccer team, and the local policeman who is besotted with Britt-Marie.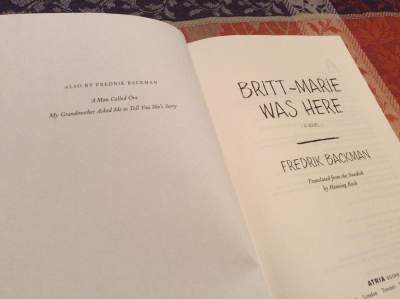 Story Line:
I enjoyed the story line of Britt-Marie Was Here. Backman is great at crafting  a moving, touching, and funny story line.
This heartwarming book's story line is similar to A Man Called Ove except this is a female character who leaves her cheating husband and then finds meaning in her life, whereas Ove is about him reflecting on his life after the death of his wife. Both characters are old curmudgeons in sort, but are nice people underneath.
I like Backman's repeating themes in his book- what you see is not what it appears and being different is okay.
What didn't I like?
I thought the book was a bit slow to start. I understand that Backman has to set the scene but it took some time before I got stuck into it. However, the pace did increase and the rest of the book was steady.
I thought this was a bit too similar to A Man Called Ove. Though they differ in story line, I kept thinking about Ove, which was memorable.
My Final Thoughts:
I am a fan of Fredrik Backman and really enjoyed Britt-Marie Was Here. It has a good story line and was sad, funny, moving and uplifting in parts. I liked getting to know Britt-Marie and rooted for her.
Though slow to start, this book will move your emotions. I would recommend it to those looking for a heartwarming book to read, especially those that like to read contemporary fiction.
Or listen to it for free with an Audible trial.
Discover your next great book here!
Have you read any of Backman's works? How does Britt-Marie Was Here compare to his other books?