The City and the City: Book Review by Dinh.

Summary:
In the city of Beszel, a woman is found murdered and Inspector Tyador Borlú of the Extreme Crime Squad has to investigate the case.
At the offset, Borlú suspects that what looks like a straight forward murder is far from that.
As Borlú delves into the case, it brings him into the other city of Ul Qoma where he has to work with Ul Qoman detective Qussin Dhatt. Together the two try to unravel a case that will involve conspiracies and perhaps take on more than they can handle.
Review:
I was really looking forward to reading The City and the City after I spoke to an older lady at the library who was a big China Miéville fan and recommended me to read it.
I have not heard of China Miéville before and did a quick search to find that he's well known for the fantasy genre. One of his most acclaimed book is Perdido Street Station. Other of his books include King Rat, The Scar, Iron Council, Looking for Jake: Stories and Un Lun Dun.
The excitement I felt was short lived.
I had started reading it and read about 100 pages of the book so pretty much of a third was read. There are only 312 pages in the hard cover version that I read. It was good and I was enjoying it. But…..
Horse Tranquilizer!
For some reason I had to put the book down and it was probably at least a week after I picked it up to read again. Each time I picked it up it made me fall asleep. I would read a page and then nod off. No kidding, this happened several times.
With hindsight I don't think that was a good idea to have put it down over a week as I was totally lost and had to re-read parts of it again to get back into the grove.
The City and the City just didn't work for me.
The book is well written so Miéville is an excellent writer but I kept finding that I just was not looking forward to reading it, especially when it tranquilized me.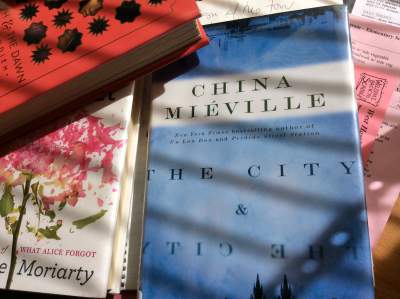 And what else didn't I like about it?
Complicated Plot!
The plot was confusing. This is a fantasy novel so it has elements that are beyond the realm of reality but it was hard to imagine the scenarios.
I couldn't get my head around the scenes that were taking place in the story. Conceptually, I was missing it. We have a city that is sharing its space with another city but the cities are not suppose to acknowledge the other city existence. Beszel is on the eastern side of Europe and is poor while Ul Qoma is more of a rich city.
So in the story you actually can see into the other city but it's illegal to "see" it. When you do "see" the other city you have to "unsee" it. Breach is the dominating authority that punishes its citizens if they violate the rules. Whether you deliberately or accidentally breach you can get your memories wiped or you just disappear.
The concept of both cities occupying the some of the same space was far out but there was further confusion of Orciny, perhaps another city that lies between the two cities. Put it all together, and also reading a few pages at a time it got excruciating difficult to understand the plot.
In this complicated setting, we have a murder going on that inspector Borlú from the Crime Squad in Beszel has to investigate. So you think it's a mystery at first and then it changes direction.
The story line started off really nicely and got me interested but when it veered off to the cities and how the murder happened that's when I got lost.
Although it was confusing I pushed myself to finishing the book. Well, I had already committed to reading a good third and it would be a waste of time not to see it to the end.
Did I enjoy any parts of the book?
I hate to be so negative about the book since it was a well written book but I really was disappointed that I didn't enjoy it like I thought I would.
Even the ending I found to be unsatisfactory. Yes, we find out more about "Breach" and the story finished off with a closed ending and somewhat tied together. The answers were not satisfying though because the plot was confusing to me. Its direction with the murder and then the possibly third city left no focus.
My final thoughts?
The concept of the two cities and story line is interesting and original. I did enjoy that it was about a murder and the inspector had to solve a mystery case but overall, the confusing concepts involved was a deal breaker and it made the reading not enjoyable. No feel good feelings here.
Get a copy of The City and The City here or listen to it for free with an Audible trial.
Look for your next book to read here!
Have you read any of China Miéville books? What are your thoughts on The City and the City compared to his other works?