The Husband's Secret: Book Review by Dinh.

Summary:
The story pivots on three main characters: Celia, Tess and Rachel.
Celia has what appears to be a perfect life. She has a successful Tupperware business, a great husband and three wonderful kids. When she finds a letter in the attic from her husband John-Paul to her to be opened when he dies, she does not know what can of worms she is about to open.
Tess finds out that her husband Will, and her best friend and cousin Felicity, have declared that they are in love. Tess takes her little boy moves to Sydney to live with her mother. Tess reconnects with an old boyfriend Connor Whitby while she is enrolling her son at St. Angela's primary school. This primary school is also where Celia's daughter goes to and where Tess meets Celia.
Rachel is St. Angela's school secretary. She is still grieving over her daughter Janie who died over thirty years ago. Rachel believes that Connor Whitby, the PE teacher was the killer of her daughter and that he has gotten away with murder.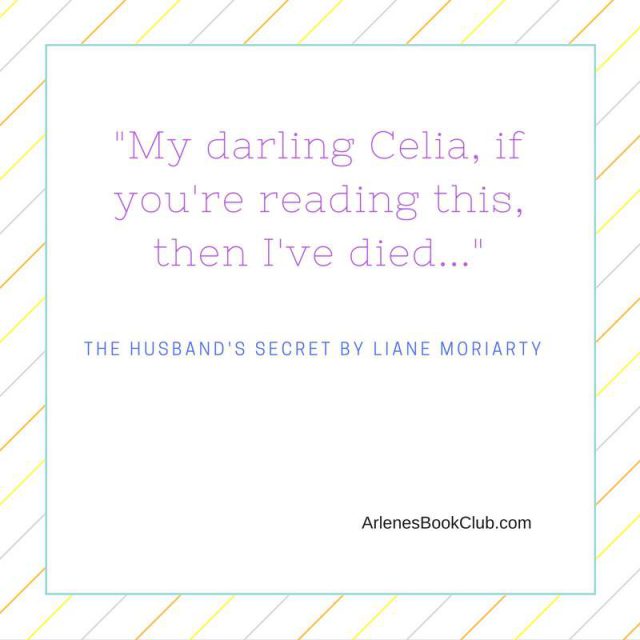 Review:
I am so glad that I picked up The Husband's Secret to read.
I liked it!
I had enjoyed Big Little Lies by Liane Moriarty and liked what the author offered so I was not surprised that I enjoyed The Husband's Secret.
What did I like?
Written in the same vein as her Big Little Lies, Moriarty did not disappoint in the way she delivered her story.
Page Turner
I enjoyed the ease of reading the book. It was not only an easy to read book but also a page turner.
Since it was not a heavy thought provoking book, the 394 pages of the hard cover book was a relatively quick read.
I liked the way the book got me hooked right away with the letter that Celia found.
" For my wife, Celia Fitzpatrick. To be opened only in the event of my death."
Of course, what's inside the letter is "the husband's secret" as the title of the book suggest. I liked the way the book got me thinking about what could possibly be in the letter.
The surprise was not what I had thought! No, not an affair as was my first instinct.
The Plot
The story line was cleverly done and Moriarty weaved the pieces of the story together in a manner that I have grown to expect from her.
It's not a complicated plot. In fact, the story line is straight forward and the book is written in a way that it catches the reader's attention.
The Characters
Moriarty pays attention to little details of mundane life which makes the story so much more interesting.
Celia, Tess and Rachel, the main characters are detailed in a way that is insightful. I feel like I know someone just like that.
The fact that she picks up on people's stereotype behavior for me is the best part. I don't think it's a cliche. There are nuances in her characters that make them life like.
The characters were well thought out and written. Celia, is a type A person but when she opens the letter from her husband John-Paul, her life is turned upside down.
How Celia responds to the news is comical and sad. Moriarty is good at pinpointing the different thought processes each character has and it's one of the aspect of her books that I really enjoy.
Rachel's character is also interesting and developed well. It's from an older woman's perspective and one that has gone through loss of a daughter.
Moriarty's attention to Rachel's grief and how she deals with it is one that I can also understand. Moriarty captures the emotional state of Rachel really well.
So what didn't I like?
The only thing I didn't like about the book was the epilogue.
It was a case of 'What if…'
If so and so didn't happen then this might have happened.
I know Moriarty was trying to tie in the Pandora box theme (Pandora's box was mentioned at the beginning of the book) but I felt it wasn't necessary. Leave fate alone!
Did the epilogue ruin the book for me?
No, I enjoyed the rest of the book so it wasn't a deal breaker. The epilogue was just unwanted fat I thought.
My final thoughts
I enjoyed The Husband's Secret because it was a spot of light reading and a page turner. The story line is straight forward and the main characters are interesting and well developed.
Get a copy of My Husband's Secret here. Or listen to the audio book for free with an Audible trial.
See other reviews of author Liane Moriarty.