The Stars Are Fire: Book Review By Dinh.


Synopsis:
In October 1947, after a summer-long drought, fires break out all along the Maine Coast, racing out of control from village to village. Twenty-four-year-old Grace Holland is left alone to protect her two toddlers. After an unimaginable night in which the fire forces them to huddle together at sea, they emerge at dawn to find their lives forever changed.

Homeless, penniless, and left to face an uncertain future in a town that no longer exists, Grace must learn to drive and find a job, a place to live, and a way to care for her family.

In the midst of the catastrophe, she discovers the power of her own resilience, along with exquisite new freedoms and joys. Tragedy has given her a chance to remake her own life. But unbeknownst to Grace, the true test of her courage still lies ahead of her.
Synopsis from hardcover book, 241 pages, copyright 2017 and published by Alfred A. Knopf.
–BUY NOW–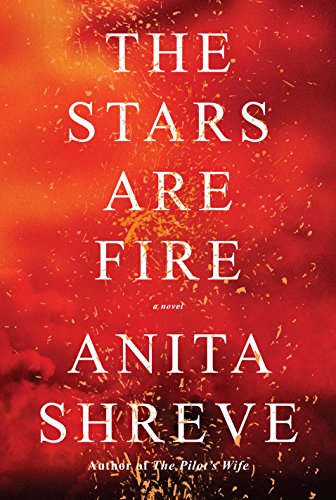 Find Anita Shreve: Website |Facebook |
Review:
I was excited to read an author that I haven't read before for our monthly read. Anita Shreve is a prolific writer and is best known for The Pilot's Wife, The Weight of Water, among others.
I haven't read any of her books and was glad we read it. I must admit, I thought I was going to really enjoy it immensely but it didn't turn out that way.
The book had elements of a story that I would enjoy:  story is drawn on real life events of the fires in Maine, life-change events, a mother that becomes single and so forth. However, I did find that I was disappointed with it.
Here's what I thought:
Interesting Story Line
The story line is the best part of the book. I really enjoyed the story line.
This story is based on the true events of the largest fire in Maine, and follows a young woman who is 5 months pregnant as she struggles to protect her two young children.
This is a character driven book but it reads fast. Grace is young and I liked that she discovers herself as she tries to raise her children in the aftermath of the devastion. She faces many obstacles when she is left homeless after the fire, has no money and has a husband that has disappeared either killed from the fire or abandoned her and the children.
Author's Style
I liked Shreve's writing. It is easy to read her novel. The tone is light and the writing is richly detailed.
What I liked most about the book was that it had lots of dialogue which makes the book fly by. I find that dialogue provides a great basis of the character and can make you like them or not.
I wouldn't say this book was a page turner though, even though it was read fast, being only 241 pages it is on the lighter side of an average book.
I liked that Shreve created a strong sense of place in this book. I can definitely imagine the setting in Maine and the coastal towns.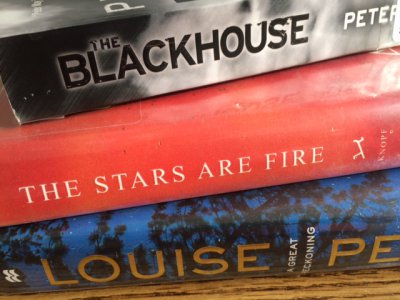 Characters
The characters in the book were okay. No one character stood out.
I felt that the characters were one dimensional and didn't have enough substance. I think more could have been done to making them more solid.
Grace Holland is the main heroine in this story but I couldn't quite connect with her.  I wanted more depth and felt that she was not developed enough.
I emphasized with Grace and her hardships but there was a lack of emotional connection with the character for me. This lack of emotional connection did not make me want to root for her.
Shreve shows how Grace is resilient as she comes back from the devastation of the fire that has left her with nothing, which I admire but it didn't move me. Yes, Grace saved her children, her best friend Rosie and her kids, and she finds solution to all her problems. BUT, I didn't feel moved by all these events. Call me callous…
Ending
Life somehow sorts itself out and I like how it played out in The Stars Are Fire. There were no surprises and we do have a happy ending.
It does come together in a plausible ending.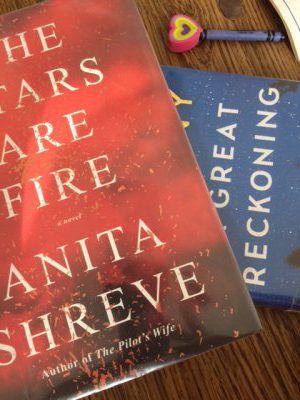 My Final Thoughts
I enjoyed The Stars Are Fire but not as much as I had hoped. The book has lots of elements that I like in a good book, like good writing and a good plot. However, it fell short for me because of the lack of emotional connection with the main character.
I do feel that fans of Shreve will enjoy The Stars Are Fire, even though it was an okay book for me.
Though I was disappointed in this book, Shreve does have a good writing style which intrigued me and kept my interest. I will have to give her another chance and check out her other works, perhaps The Pilot's Wife, and see if I like it.
Check out The Stars Are Fire Book Club Discussion Questions.