The Underground Railroad: Book Review by Dinh.
Synopsis:
Cora is a slave on a cotton plantation in Georgia. Life is hell for all the slaves, but especially bad for Cora; an outcast even among her fellow Africans, she is coming into womanhood—where even greater pain awaits.

When Caesar, a recent arrival from Virginia, tells her about the Underground Railroad, they decide to take a terrifying risk and escape. Matters do not go as planned—Cora kills a young white boy who tries to capture her. Though they manage to find a station and head north, they are being hunted.

In Whitehead's ingenious conception, the Underground Railroad is no mere metaphor—engineers and conductors operate a secret network of tracks and tunnels beneath the Southern soil. Cora and Caesar's first stop is South Carolina, in a city that initially seems like a haven.

But the city's placid surface masks an insidious scheme designed for its black denizens. And even worse: Ridgeway, the relentless slave catcher, is close on their heels. Forced to flee again, Cora embarks on a harrowing flight, state by state, seeking true freedom.

Like the protagonist of Gulliver's Travels, Cora encounters different worlds at each stage of her journey—hers is an odyssey through time as well as space. As Whitehead brilliantly re-creates the unique terrors for black people in the pre–Civil War era, his narrative seamlessly weaves the saga of America from the brutal importation of Africans to the unfulfilled promises of the present day.

The Underground Railroad is at once a kinetic adventure tale of one woman's ferocious will to escape the horrors of bondage and a shattering, powerful meditation on the history we all share.
Synopsis from hardback version, 306 pages, copyright 2016, and published by Doubleday.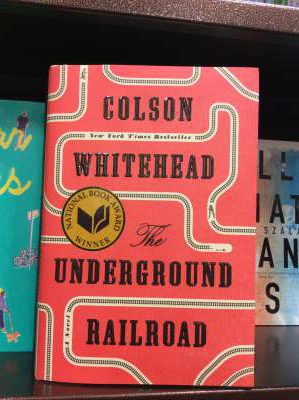 Review:
I was looking forward to reading The Underground Railroad by Colson Whitehead since it got so much attention and praise. It was not what I had expected and I was somewhat disappointed. I enjoyed the book mainly, but it was not the 5 stars book I was expecting.
Although Whitehead has written other books, this is the first book I have read by him. His other works include The Noble Hustle, Zone One, Sag Harbor, Apex Hides the Hurt, The Colossus of New York, John Henry Days, and The Intuitionist.
Not knowing Colson Whitehead's writing style except what was on the book jacket, I was nicely surprised by his writing.
Here's what I liked about The Underground Railroad.
Story Line
I enjoyed the simple story line of the book. The Underground Railroad was an interesting look inside slave girl Cora's horrific journey to find freedom. Starting in slave state Georgia, she travels to South Carolina, North Carolina, Tennessee, Indiana and finally The North.
This book is more of a character study in a story designed to enlighten us with the horrors of slavery.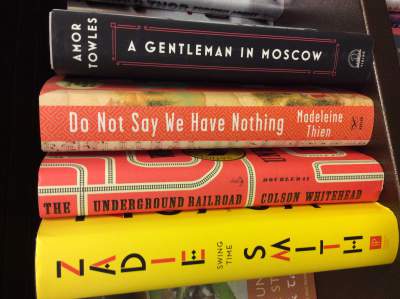 Style of Writing
I love the way Colson writes. His eloquent prose, together with the subject matter of bondage, and the brutal nature of slavery, gives this book an unreal feel. I think it mask the harshness and grotesqueness of slavery in a clever way by giving the reader a surreal experience.
Another element that I thought was ingenious was the inclusion of references to events that were not related to that historical period. The author engaged us by putting modern day references in the story.
For example, when Cora was at the Well's residence, she was kept in the eaves of the attic with no room to move and was bought food to eat at night. Clearly, this is a reference to The Diary of Anne Frank.
Whitehead also held my attention by breaking up Cora's journey by including other character's stories as well as genuine flyers for rewards for runaway slaves.
The opening story is about Ajarry, Cora' s grandmother, then the story line moves Georgia. Next we have Ridgeway the slave catcher narrative and then South Carolina, and so forth.
Characters
Cora
I loved the main character Cora. She is brave and strong. Abandoned by her mother Mabel, Cora had to survive on her own. Cora had the wits to make her mark as the crazy girl.  By chopping down the doghouse with a hatchet, she made a reputation for being crazy and the other slaves would leave her alone.
Cora's was also smart by learning how to read. Most of her learning to read was self-taught when she was living in the attic at Martin and Ethel's house.
Ridgeway
I also enjoyed the character Ridgeway. Though he is a villain in this book, I enjoyed reading about his character. I loved the contrast between the protagonist Cora and the antagonist Ridgeway.
Ridgeway is depicted in exaggeration; he's the notorious slave catcher. His peculiarities are highlighted by his gang of helpers. One hired hand wears necklace of ears and his driver is a former slave.
He's the character that you love to hate because of what he is.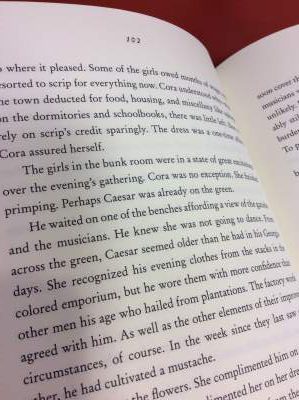 Themes
Freedom
I really enjoyed the core theme of this book. Freedom is the focus of this book.
Freedom in this book is a perspective. Cora sees her being in the attic as a prison, the same as the plantation. As she travels and moves from place to place you wonder if she will ever be free. She is always on the move so she won't get caught.
Is there such a thing as freedom for her? Even towards the end, she is on the move and always has to worry that a slave catcher might get her.
"In death the negro became a human being. Only then was he the white man's equal."
Cruelty
Another theme that was constant was cruelty. Cruelty was everywhere. We see cruelty from black people and white people.
The slaves were cruel to each other as a matter of daily survival. It was each person looked out for themselves in this brutal world. When Cora flowered, she was raped by a group of black slaves.
"..Nothing left for the world to show you except the latest incarnation of cruelty."
The plantation owners did not see themselves as cruel. They saw the slaves as their property and their right to do as they wish.  Cora's master Terrance was cruel and sadistic from a young age.
Bravery
Whilst there was cruelty abound, there was also hope for freedom by those brave enough to stand up and help the slaves.
So who was brave?
All the characters that help and were a part of Cora's journey had their reasons to help. Not all were brave or heroic. Some had reasons to help and their heroism maybe misjudged.
Take for example, Ethel's Wells. Her reason for helping was not altruistic but self-center. She always had a savior complex as a child. She thought she would be a missionary and save the Africans.
Also, Lumbly the station master was weird. We don't know his real motive but his action is questionable when he has thousands of different kinds of shackles the receiving area on meeting Cora.
Furthermore, was Martin Wells heroic? No, he only became part of The Underground Railroad because his father left it to him. He thought he was going to find treasure not an underground railroad!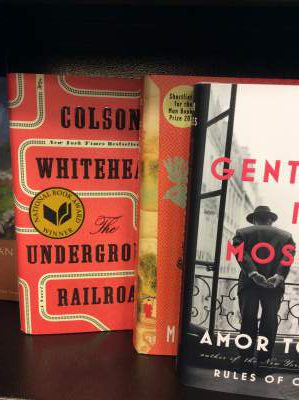 So What Didn't' I Like?
Excessive Violence
I knew going in that it would be a tough read as the slavery isn't a nice feel good subject.
The first chapter was a nice ease into the story line with the backstory of Ajarry, Corra's grandmother and although there were atrocities in her story.
It was the buildup of the brutality and violence in the rest of the chapters that I thought was excessive. Every page seemed to be filled with it. Rape, lynching, torture to name a few!
Okay, I know slavery isn't supposed to be nice, but there was no respite whatsoever. There was no hope but more misery, and I guess that's the point the author is trying to make. However, I wanted a bit of hope and sunshine, just a little, to carry me forward.
Inaccessible Characters
The characters felt a bit distant. I felt removed from most the characters. Though I was sympathetic to Cora's plight, I felt that I was at arm's length in connecting with her.
My Final Thoughts
This historical fiction is not for everyone because of the subject matter.
I enjoyed reading The Underground Railroad but personally felt that the book had too much violence. It is about bondage so rightly so it has elements that are brutal.
Whitehead's style of writing and clever use of structuring the book made the book an interesting read, holding my attention until the end.
Get the book here! Or listen to it for free with an Audible trial.
See what we're talking about in The Underground Railroad Book Club Discussion Questions.
Discover your next great read!
Have you read books about slavery? What do you think about them?