Happy Thanksgiving!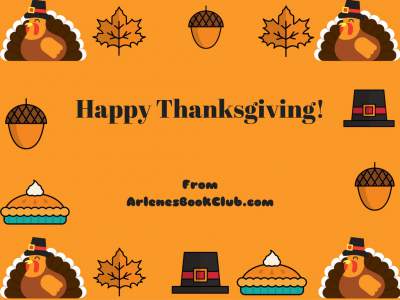 Before you start your bountiful Thanksgiving feast, I like to ask you:
What are you grateful for on Thanksgiving?
We at Arlene's Book Club have  a lot to be thankful for this year.
My Thoughts
Firstly, I like to say a big THANK YOU to all our readers, especially the ones that have taken the time to comment on the posts.
Without you it would be really dull, so thank you for making life more interesting and colorful.
I am full of gratitude for hitting over one thousand comments. As of today, we have 1,124 comments for the 15 months that we have been around. That is really remarkable – Thank You for contributing!
Thanksgiving is a time for family and I would be remiss if I did not give thanks to my family. I am so grateful to have such a wonderful loving family.
I am also grateful to have great friends who not only support me but make me a better person. These people know who they are. Thank you for being in my life's journey.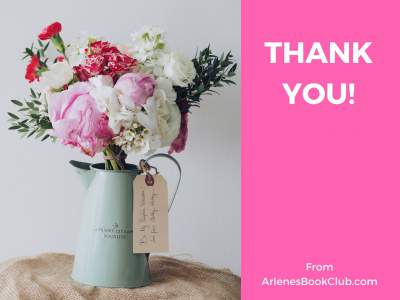 Also, I am thankful for books. Thank you, to all the authors out there who put their heart and soul on paper, for us to enjoy and help us grow. (see my thoughts on do books make you smarter).
Books have really enriched my life and I am thankful to have discovered lots of good books to read. You can see our book reviews for suggestions or go Top Selling Books on Amazon to get more reviews on books that may interest you.
Your Thoughts
Thanksgiving is a great time to reflect on what we are grateful for and to spend time with our loved ones. On this official holiday, how do you celebrate it?
Do you have turkey with all the trimmings? Do you watch the New York City's Thanksgiving Parade presented by Macy's department store? How about watching the football? Or do you like shopping in the sales?
I'd love to hear what your Thanksgiving traditions are, and what are you grateful for on Thanksgiving?