Fates and Furies: Book Review by Dinh

Synopsis:
They meet in the final months of college, and by graduation, they had married. It's 1991. At age twenty-two, Lotto and Mathilde are tall, glamorous, madly in love, and destined for greatness. There are lean, romantic years that follow: potluck parties in a Manhattan basement apartment; a wilting acting career that doesn't pay the bills; a household that seems to run on good luck and good sex.

A decade or so later, though, Lotto and Mathilde are on their way. He is a world- famous playwright, she is integral to his success. Their life and marriage are the envy of friends, the very definition of successful partnership.
Synopsis from hardcover version, 390 pages, copyright 2015 by Riverhead Books.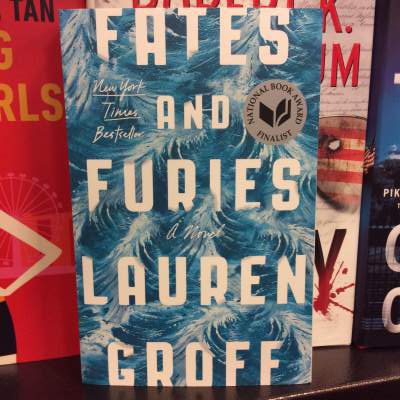 Review:
< Spoilers ahead! >
Oh yeah, I am doing my happy dance!
I am happy that we chose Fates And Furies by Lauren Groff to read for our book club because it was a brilliant read!
It's so nice to read something enjoyable and not have too many things about it that I didn't like.
I this is my first book by NY Times best seller author Groff. She has also written Arcadia, Delicate Edible Birds and The Monsters of Templeton. I am now intrigue to find out if her other works are good to!
Fates And Furies is a wonderful story of a marriage. I enjoyed how the story was crafted, with its surprising twists and changing perspectives.
Let's break it down to what I like about it!
Writing:
I loved the way Lauren Groff writes.
The layout of the book is divided into Fates and then Furies. The first half is Fates and tells of Lotto perspective, the second half is for Furies and is Mathilde side of the story.
Groff is ingenious in that she made it very distinct and choppy in the first section of the book.  Then the prose in the second part of the book is more liquid and flowing.
The changes in the writing style is great in reflecting how the marriage has two perspectives. One for Lotto and one for Mathilde.
It worked well because Groff is able to capture the person's perspective effectively.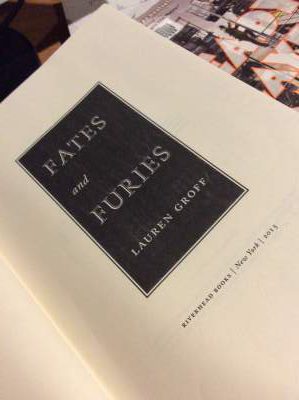 Plot And Pace:
I liked the simplicity of the plot!
The plot is about marriage of the Lotto and Mathilde and is not really action driven story but character driven one.
You get to find out about their marriage, and why they married and what drove them to stay together.
Though character driven story line, it is an interesting tale with surprising events and twists which gets revealed when you don't expect it.
I also liked the speed of the book. It was a steady read and also a page turner in most parts, though I did find parts of it slow especially in Fates.
Lotto point of view was a bit tedious as he was so self centered. Me, me, me and more me! As you can see I didn't warm up to him.
Characters:
I liked the two main characters stories and the supporting characters were also good in this book. The inclusion of the supporting characters to made the story flow but not all of them were memorable, with the exception of Chollie, Lotto's childhood friend.
Mathilde
I loved Mathilde's sad story!
What I enjoyed the most was how Groff's held my attention by giving bits here and there, going from present day to the past, in Mathilde's story.
Not only does this captures my attention, but giving Mathilde's childhood and history like this makes you change your point of view of her as you read.
Having not much liked her in Lotto's side of the story, when I was reading the second part of the book it made me  have a much richer understanding of her character as I continued to read.
Though I didn't warm to Mathilde, her childhood history did make her character interesting and I could empathize with her.
I enjoyed the fact that I was surprised with Mathilde's story. It was heartbreaking and surprising the things that happened to her.
Mathilde was neglected and unloved as a child. Her parents abandoned her when she was 4 and even her uncle disregards her in her childhood. That history of being unloved and neglected shaped her view of life.
I found Mathilde childhood story really sad. She became who she was because she had to survive. She had to be tough and had no hope for love until she met Lotto.
Lotto
Lotto story on the other hand, was a complete opposite to Mathilde. He was the golden boy who was given everything from birth and was thought to destined for greatness by his parents and aunt.
He had a privileged life and carefree life growing up in grand plantation in Florida. Always at the center of attention, he grew up overly confident and narcissistic.
In this part of his story Groff ties in the "Fates," as in  the Greek mythology. The Fates are incarnation of destiny and control the thread of life from birth to death. Lotto's thought he was destined to be great. Even his name is a pun.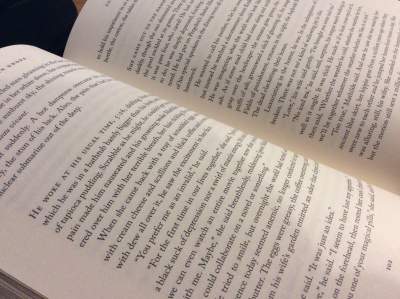 Themes: What's Groff's Message?
I like the theme of marriage in this book. The idea that marriage has two view points and we don't always know the other person.
It seems that although they were married for 24 years that they never knew each other. Lotto had secrets and so did Mathilde.
Lotto found out Mathilde secret years into the marriage. Mathilde was not a virgin as he thought when he married her, but she had other relationships and was a mistress to Ariel English, a gallery owner and Mathilde's former boss.
Mathilde also found out Lotto's deep secrets. She was surprised that Lotto had fallen for Leo Sen, a composer that Lotto was working with. Later, after Lotto's death, she finds out that he had a child…
What Didn't Work For Me?
I really enjoyed reading Fates And Furies but there was something lacking in the book.
The novel was not emotive. I didn't feel moved and didn't  connect to either main characters. Perhaps because they weren't likable characters, whatever it was, I felt too distanced from the main characters.
To be honest, I felt that it was a bit high brow for me at times. I didn't get all the references, especially all the myths.
I was not familiar with the mythology parts of the book and had to look it up to get the gist why it was included and what its significance was.
I guess on the bright side, I did learn something…
My Final Thoughts:
I felt satisfied reading this book. This was a very well thought out book, not only in layout, and style of writing, but also with the inclusion of classical myths to highlight the themes. (Even though I had to look it up).
The cleverness of the book is only a backdrop for this wonderfully told story which focuses on two very different people coming together in a marriage. It's an interesting tale of two perspectives in a marriage and how secrets can hinder the person from knowing each other.
Get a copy of Fates and Furies!
Check out the Fates And Furies Book Club Discussion Questions!
Discover your next great read!