Book Review by Dinh.

Synopsis:
"Granny has been telling these fairy tales for as long as Elsa can remember In the beginning, they were only to make Elsa go to sleep, and to get her to practice Granny's secret language, and a little because Granny is just about as nutty as a granny should be. But lately, the stories have another dimension as well. Something Elsa can't quite put her finger on."

Elsa is seven years old and different. Her grandmother is seventy-seven years old and crazy- as in standing-on-the-balcony-firing-paintball-guns-at-men-who-want-to-talk-about-Jesus crazy. She is also Elsa's best, and only, friend. At night Elsa takes refuge in her grandmother's stories, in the Land-of-Almost-Awake and the Kingdom of Miamas where everybody is different and nobody needs to be normal.

When Elsa's grandmother dies and leaves behind a series of letters apologizing to people she has wronged, Elsa's greatest adventure begins. Her grandmother's letters lead her to an apartment building full of drunks, monsters, attack dogs, and old crones, but also to the truth about fairy tales and kingdoms and a grandmother like no other.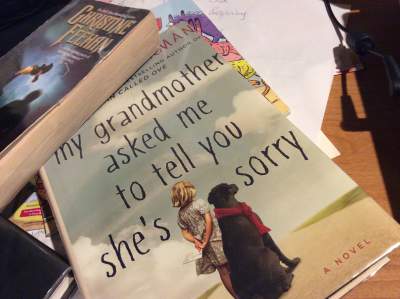 Review:
I have to give Swedish author Fredrik Backman high praises. He is becoming one of my favorite authors.
I absolutely loved his debut novel, A Man Called Ove and his second book My Grandmother Asked Me To Tell You She's Sorry is also fantastic.
My Grandmother Asked Me To Tell You She's Sorry had an array of things that made this book an enjoyable read.
Here's what I liked:
Writing
Written originally in Swedish but translated for international readers, the writing is simple, yet to the point. Backman has a keen mental perception and understanding of the human condition that goes beyond the writing style itself.
I did not know that this book was translated until I read his bio on Wikipedia. The translation of the novel was good and I didn't have any issues with it. I read this book fast as it captivated my attention.
The novel was 370 pages long in the hardcover version and because of the ease of reading, it felt like a quick book.
Plot
This novel's story line is about the main character Elsa and the secondary supporting characters. It is a character driven story that pulls your emotion making you laugh, sad, distress and relief, and happy.
In My Grandmother Asked Me To Tell You She's Sorry , the discerning focus is the 7 year old Elsa and how she deals with life after the death of her grandmother. Elsa's parents are divorced and her mother pregnant.
When her grandmother dies, she leaves a series of letters for Elsa to find in a form of  a treasure hunt and for her to give it to the recipient on the letter.
Elsa has no one to guide her like before. Her grandmother was the center of her life and world, and with her gone Elsa has to find her own way.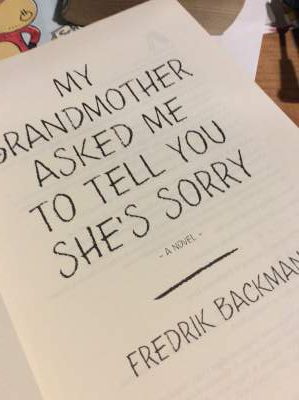 Characters
I liked all the characters in this novel; main and secondary.
Backman skillfully takes outwardly looking misfits and breathes a heart and soul in them that makes them likable and endearing. They tend to be unique individuals that are not well adapted to societal norm.
I think he's giving a nod everyone; we are all different and what is different is good.
You can not help but love Elsa.
Elsa is a child genius but socially awkward. She has no friends at school and is constantly bullied for being different.
There's a heart-wrenching scene where Elsa gets chased by the "Harry Potter Girl" but then gets saved by the Monster. It was a relief and uplifting moment when she was saved. Throughout the book I rooted and sympathized for her. You feel sad for this unique girl who gets bullied at school.
As Elsa goes on her quest of delivering the letters for the intended receivers, she goes on a journey in discovering the the realities of her grandmother's legacy and growing a little wiser as well.
Yet, at heart she is still a child who needs the security in her Gryffindor scarf. Elsa is precocious and at times she does seem way far beyond her years but then when you think of the fairy tale world she needs to live in you remember that she is still a young child.
I also enjoyed Granny's character. She is crazy and puts a bit of fun in everything. I liked that she had a very strong connection with Elsa and gave her the love that she needed. She also taught Elsa that being different was special and nothing wrong with it.
"There is nothing wrong with being different. Granny said that only different people change the world."
The secondary characters in this novel are interesting.
I particularly was interested in Britt-Marie, who you could tell had her own story going on by the hints and remarks mentioned by Elsa's mother. Britt-Marie is not what she appeared either as with so many of Backman's characters. (Backman's third book is called Britt-Marie Was Here will be an interesting revelation of her life).
The characters that live same apartment house and their stories get told as we progress in the the book. Backman deftly weaves these characters together and tell their story.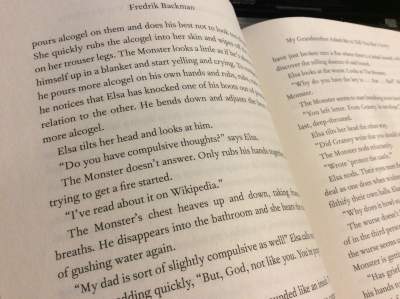 There were a couple of things about the book that I didn't like.
I found it hard to believe Elsa at times. Although Elsa is precocious, I found it a bit hard to believe that she could go online at age 5 about to turn 6, to read about the tsunami in the Indian Ocean that happened on the day she was born.
I know she's a child genius but I couldn't get over that point. She seems too far beyond her years.
Another thing I didn't like was the fairy tale world. It was a bit hard and confusing to keep up the fairy tale world with who's who and the complex rules in the kingdom. After a while I didn't focus on the specifics but let it wash over me and then I enjoyed it more.
My Final Thoughts!
My Grandmother Asked Me To Tell You She's Sorry was a delightful read. Whilst it had some elements that I didn't like, overall its character driven story line came together in a thoughtful way.
The novel's moral of the story is that there's nothing wrong being different is a heartwarming tale that will lift your spirits.
I recommend this endearing book to anyone!
Get the book or listen to it here.
Check out Backman's A Man Called Ove book review and Britt-Marie Was Here.
See our other book reviews.
Have you read any of Backman's books? Which book is your favorite? Does this book pique your interest?