Christmas is approaching and what better way to share some joy by giving the gift of books. There's still time to get your gifts for Christmas.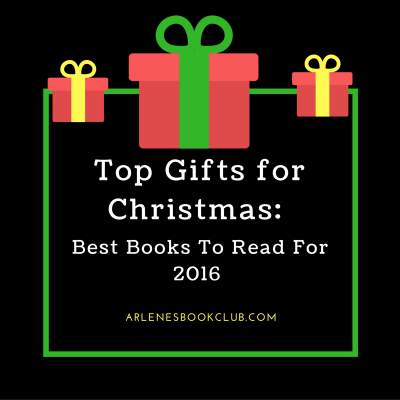 What are the top gifts for Christmas?
This year we are changing it up, and we are not personally choosing our favorite books to recommend to our readers, but will be relying on the New York Times Bestseller list for the best books to read for 2016. Don't worry, you can still get our opinions on the books in our reviews. 
Trade Paperback Fiction
For the week of December 18, 2016, the bestsellers in trade paperback fiction are as follows: (All book covers link to Amazon).
1.
  A Man Called Ove by Fredrik Backman.
This book is on NY Times bestseller list for 49 weeks and is also on Amazon's bestseller list in humorous fiction category. Ove, a grumpy old man, gets new neighbors that changes his outlook.  Read book review here.
2.
The Girl On The Train by Paula Hawkins.
This psychological thriller is not only on the New York Times bestseller for 21 weeks but also USA book of the year, as well as a major motion picture this year starring Emily Blunt. Read book review here.
3.
Milk And Honey by Rupi Kaur.
Milk and Honey is a collection of poetry and prose. It is also found on Amazon's bestseller list in Religion and Spirituality category. It is on NY Times bestseller list for 34 weeks.
4.
My Grandmother Asked Me To Tell You She's Sorry by Fredrik Backman.
7 year old Elsa embarks on a journey to deliver a series of letters left by her granny. Also written by NY Times bestseller Fredrik Backman. On NY Times list for 33 weeks. Read book review .
5.
15th Affair (Women's Murder Club) by James Patterson.
A murder disrupts the marital bliss of police detective who goes to the Women's Murder Club for help. 4 Weeks on the NY Times bestseller list.
6.
The Alchemist by Paulo Coelho.
Topping the world's bestseller list in 74 countries, The Alchemist has been on NY Times bestseller list for 417 weeks. A fable of a shepherd boy from Spain who goes to Egypt to find his dream and destiny.
7.
The Sellout by Paul Beatty.
Winner of the Man Booker Prize, this is a satire on race in the USA. Winner of the National Book Critics Circle award in fiction, winner of the John Dos Passos Prize for literature and on NY Times bestseller list for 6 weeks.
Science fiction book, in which Arrival was originally published in 2002 as Stories of Your Life. Arrival is now a major motion picture. On NY Times bestseller for 3 weeks.
9.
In A Dark, Dark Wood by Ruth Ware.
A reclusive crime writer is invited to a party for a weekend in the countryside which takes a sinister turn. This twisted psychological thriller has been on NY Times bestseller list for 28 weeks. A major motion picture coming soon.
10.
The Sympathizer by Viet Thanh Nguyen.
A Vietnamese army captain living in America post Vietnam war turns into a Communist spy. Winner of 2016 Pulitzer Prize for fiction and other awards, this book has been on New York Times bestseller list for 5 weeks.
11. Ready Player One by Ernest Kline. Read review.
12. See Me by Nicholas Sparks. Read review.
13. Diary of An Oxygen Thief by Anonymous.
14. The Magic Strings of Frankie Presto by Mitch Albom.
15. The Little Paris Bookshop by Nina George. Read Review.
So there you have the top gifts for Christmas.
Some of the best books to read for 2016 have become a classic must read books such as The Alchemist, which is a fantastic book.
You can't go too wrong with a gift of books for an avid reader and choosing the bestselling books for 2016 will steer you in the right direction. Whether you choose an old classic or a recently published book, a gift of a book is a wondrous thing!
For more information on other book selections, please check our reviews.
Have you read any of the books listed in the New York Times or Amazon's bestseller list? Which book will you gift?