Hello book lovers!
You may be wondering What is The Coffee Shop?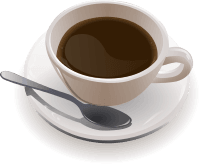 Here at Arlene's book club we like talking about all things related to reading and came up with idea of The Coffee Shop.
Relax with a cup of coffee, cuppa tea or a beverage of your choice and let us know a little more about yourself.
It's a place to hang and chat with us about books, reading and things that are on your mind.
My thoughts…
I usually find myself reading where ever I can; usually it's in the car waiting to pick up my son from school and sometimes on the treadmill.
Your thoughts…
I would like to know about you. The Coffee Shop question I want to ask you is: "Where do you like to read?"
I would love to hear your comments so don't be shy, drop by for a chat!
Check out other Coffee Shop topics.